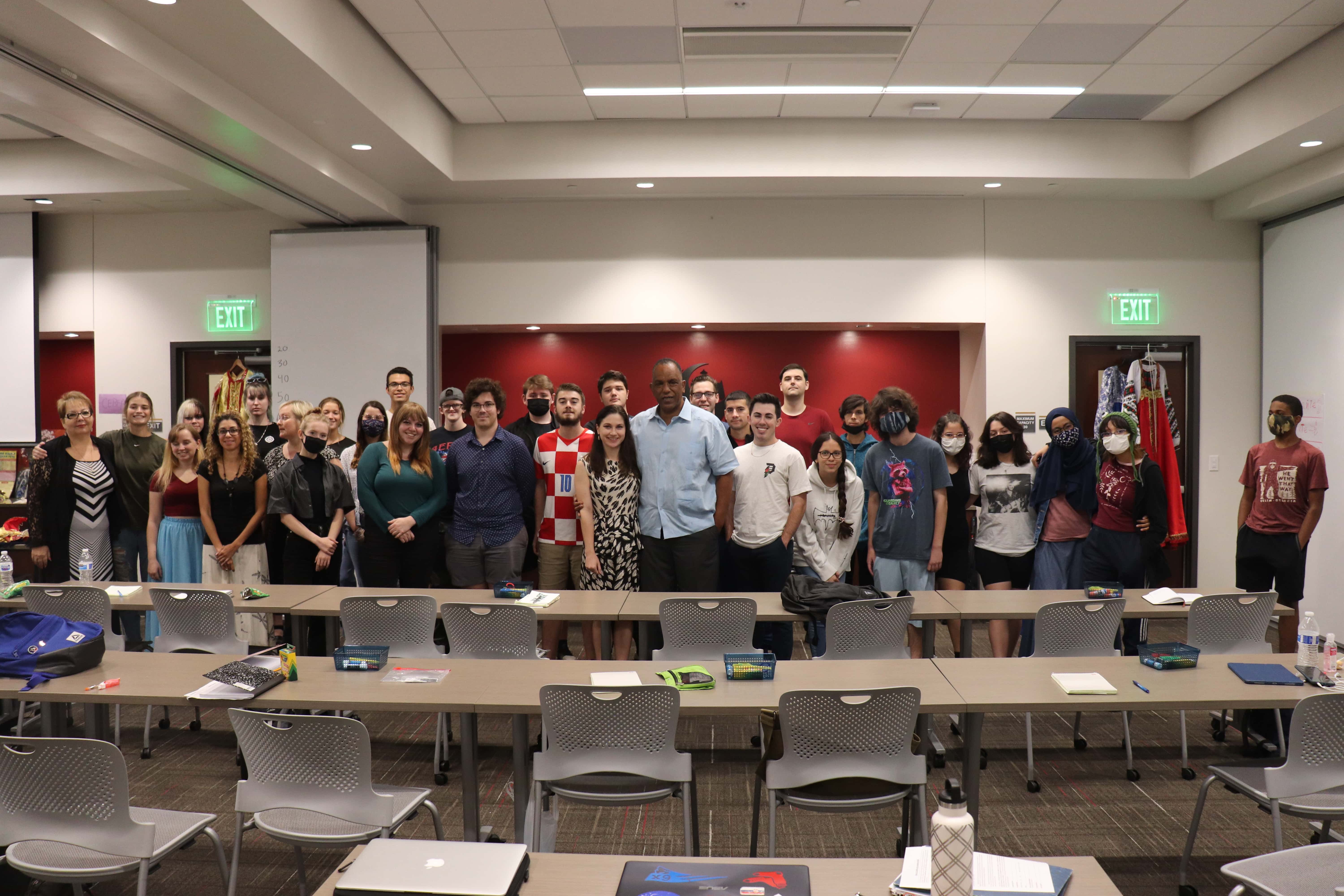 Today, students got to listen to a very informative presentation by Dr. Berry Morris, who has quite an impressive resume:
Current NAFSA board member, Barry J. Morris, PhD, is the former chief global strategist and senior international officer at the University of Central Florida. He also serves as internationalization consultant for Beijing Jiaotong University (BJTU). At BJTU, he was the founding vice dean for strategic planning and internationalization at the Hanergy School of Renewable Energy, professor of international relations, and founding secretary general of BJTU's international advisory board. An institutional strategy and international education consultant, Morris also serves as instructor for the NAFSA/AASCU (American Association for State Colleges and Universities) Senior International Officer Institute in Washington, D.C., and the AASCU/CEAIE (Chinese Education Association for International Exchange) Senior International Officer Institute in Beijing, China. Morris serves on the board of directors of the Georgia Council of International Visitors. He is the former vice provost for global engagement and strategic initiatives at Kennesaw State University (KSU)—University System of Georgia, where he was responsible for leading KSU's global engagement mission and a variety of campus-wide strategic initiatives. During his tenure at KSU, KSU won NAFSA's prestigious Senator Paul Simon Award for Campus Internationalization. Morris has served as a founding dean of American University of Nigeria and as a lecturer at Georgia Institute of Technology and Georgia State University. He has management experience in global banking and finance, and consulting experience in international finance, economics, and business. Morris earned a BA in Russian and political science with a specialization in international relations from Tulane University, and an MA and PhD in international relations and international political economy from Emory University. He studied Russian at Moscow State University's Lumumba Institute and studied Chinese at Tsinghua University. Morris holds a certificate in global strategic management from Harvard Business School and has completed advanced studies in intercultural communication competency at the Intercultural Communication Institute in Portland, Oregon, and the Intercultural Development Research Institute in Milan, Italy. In 2016, the Chinese State Administration for Foreign Expert Affairs designated Morris as a National Distinguished Expert of the Chinese Recruitment Program of Global Experts (1000 Talent Plan).
Dr. Morris presented on the importance of culture when learning language, particularly literature. He is very well read and particularly enjoys studying Pushkin and Tolstoy. The main thing students learned from Dr. Morris was to not be afraid to make mistakes. He made the point that he has made many language mistakes, and still makes them, throughout his journey as a life-long student. Making mistakes is how we learn.
If you want to know more, check out the interview we did with him at the last STARTALK!
Thank you, Dr. Morris!